UPDATE: August 12th 2010 - Tips for observing Perseids Meteor and how to shoot meteor photos in the 12'th-13'th August night.
Tips for observing Perseid meteors :
In Vancouver The Royal Astronomical Society of Canada will set up telescopes at Aldergrove Lake Park a 8 p.m. until six tomorrow morning and will even offer guided constellation walks.
You can go to Seymour Mountain, or Cypress Bowl or other mountain resort with dark sites and an open view of the sky, and not so close to the brightly lit urban area.
Lie back on a lawn, chair or a blanket when scanning the skies and be patient because can be several minutes between meteors
Tips for shooting photos of Perseids meteors offered by Alan MacRobert, a senior editor at "Sky & Telescope" Magazine:
Set up a digital camera to shoot time-lapsed photos lasting from a minute up to a minute and a half, one right after another. "Occasionally, you'll catch a meteor" he says
Use a wide-field lens
Experiment before "See how long an exposure you can take before the sky starts to wash out" he says. " Then, step the setting back from that for your maximum exposure"
Like in every summer, the
Perseid Meteor Shower
begins to light up the sky.
That is, here in Vancouver, after the man-made fireworks shows
"Celebration of Light" was finished in 31th July
, in August we will have new light shows after 10p.m., this time being a natural "Perseid Meteor Shower" show.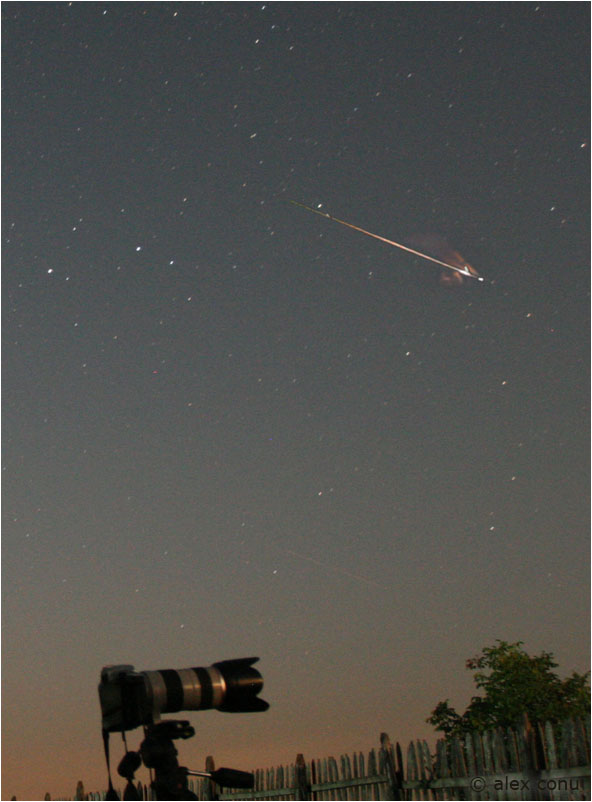 "A Perseid meteor photographed in 13 August 2008 by Alex Conu of Pauleasca, Romania.
"
This year
the planets was alligned since 5th August
and every person can enjoy the "meteors show" without telescope especially because the Moon won't be up during the midnight-to dawn hours, when the meteor rates will be higher. The best time to look is during the 12th August night when the Venus, Saturn, Mars and the Moon (new moon was in August 10th) will be seen after sunset and observers will see dozens of meteors per hour.
The Perseids
is the name of a prolific meteor shower associated with the comet Swift-Tuttle. The name derives from the word Perseides (Περσείδες), a term found in Greek mythology referring to the descendants of Perseus.
The star constellation of Perseus is refered with "perseid" term, and the meteors originate from Perseus are very easily visible, very close to the earth speking in light-years, and pretty big in order to see them so clearly leaving a lighting trail of iron, magnesium and sodium molecules when hits air molecules in the Earth's atmosphere.
Usually the meteors burn up as they enter the earth's atmosfere, an exception being the
Barringer Meteor Crater
in northern Arizona with 1186 kilometres diameter who was created about 50,000 years ago. Other smalls simple or complex
craters around the world
with large terrestrial impact was studied for their geologic importance: Mistastin Lake from Newfoundland and Labrador, Canada, with 28 km diameter, Manicouagan from Quebec, Canada with diameter around 100 km; Deep Bay, Saskatchewan, Canada, with 13 km diameter or Chicxulub from Yucatan Peninsula, Mexico with 170 km diameter.
You gotta' be prepared to see when the "Perseid Meteors Showers" will light up the sky. So, find a dark site with an open view of the sky during darkness hours on Thursday night 12th/13th August and in the nights before and after this date and get ready for an amazing natural light show.